Design Trends
01/30/2015 12:55, Published by Style, Categories: Home+Garden
---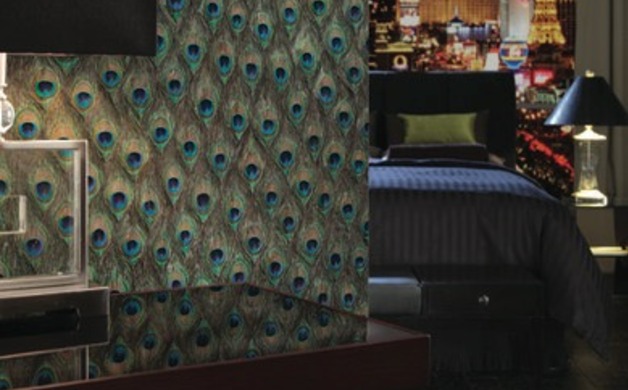 ---
People are recognizing the significant importance of how interior design affects their mood when they're at home. Let luxury and lifestyle be your trend for 2015, and add these six must-haves to your space.
1/Walls That Talk
Wall coverings aren't solely for your grandmother's house anymore. Textural stimulation is evident with the new papers in the marketplace today—everything from feathers, crystals, leather, velvet and more. The elegant touch adds to any entry wall or master bedroom headboard wall, and creates a great mood setter.
2/Mixing Metals
Simply buy a pillow that has metal accents and toss on your favorite chair to bring a blingy touch to your space. Many orbs and sculptures are also offered in several types of metal; brass, silver and rose hues with interesting movement can add an eye-catching statement. In terms of placement, consider any open shelves, a sofa table or Bombay chest.
3/Into the Woods
Mixing several types of woods—from maple, rosewood and walnut to many exotics—can create warmth and interest in headboards and coffee tables throughout your home. Many people will ask for one particular wood to set the tone in their space, but the trend for 2015 is to break the rules and mix several to create a style that reflects you.
4/Call of the Wild
Create a faux fur experience and add softness to any wood statement chair, or simply toss at the foot of your bed. Once you add pillows or throws made from wolf, curly Mongolian, polar bear or alpaca, you'll have the desire to curl up, grab a book and stay a while.
5/Happy Hour
Bar carts add style and function to any home that likes to entertain. Glass and metal have openness for small spaces or an unused wall. Grab a drink, sit back, and admire the must-haves of 2015.
6/Light up Your Life
Hand-blown glass is the light of the future. Being able to bring metal structure and art together with colorful glass has turned task lighting into your home's jewelry. Places to not be in the dark include the dining room, pendants above an island, or an entryway. To add even more luxury and clear space, try swapping out your side bed lamp for a hanging pendant.
FOR 4 MORE DESIGN TIPS, VISIT TAMITEELDESIGNS.COM!
Tami Teel Designs provides comprehensive interior design services for a vast array of commercial, medical, corporate and residential clients. Tami is also a regular contributor to HGTV, where her work has been featured on more than 20 programs, including House Crashers and Yard Crashers. If you would like to contact her, visit tamiteeldesigns.com or call 916-677-7021.
Photos by Dante Fontana, © Style Media Group
Tami Teel
Tami Teel designed more than 20 episodes for HGTV and the DIY Network, including the 99th and 100th episodes of House Crashers, which were filmed last year in Orangevale and Lincoln. Teel started her business in 2000, a natural extension of her lifelong interest in interior design, and is a member of the National Bath and Kitchen Association, as well as Distinctive Designs. She now has three locations, including her latest, which has a full-spectrum studio filled with samples, textures and products. A native of northern California, Teel focuses on "creating inviting, innovative spaces and dispelling the myths that surround interior design."
FAVORITE COLOR PALATTE
"I like combining neutrals with grays. It encourages the warmth clients desire with neutrals that allow them to stay current with style."
Q&A
Design motto: When you're passionate about what you do, it will be evident with fantastic results for your clients.
Favorite materials or textures: I enjoy bringing in several layers that will be based on the overall design. My favorite material is Mohair and leathers. If a client's design calls for it, I will add a touch of cowhide.
Favorite designers/architects: Frank Lloyd Wright was a brilliant architect and designer that I have used as my inspiration for incorporating the outdoors into the home or commercial spaces. A current designer that I share a similar design style with is Candice Olson—she maximizes space and offers comfortable modern spaces.
Advice for aspiring interior designers: Understand that design is 30 percent design and 70 percent business. It's not just fun and games—you must be wise with your time to allow for paperwork, follow up, accounting, etc.
Design project that has the most impact in a home: The family room is where most of the members come together, so you need to maximize comfort and personal style. Next would be the kitchen (to help with ease of prep and enjoyment of the space). The powder room is where you can be daring. It's the only space your guests will have on their own to judge your style. Be bold.
Tool you can't live without: My iPhone—it has allowed me to copy and paste a design piece last minute and keeps the communication instant. I'm amazed how much I utilize the Internet for my resources and manufacturers I offer.
Favorite color: Smoke blue makes me feel warm and reminds me of the sky.
Favorite ice cream flavor: Starbucks Java Chip—creamy, rich and decadent with espresso chocolate…yummy!
Coffee or tea: I need both. My morning starts with a hot cup of coffee with hazelnut creamer, and I enjoy iced tea with lunch. My ultimate choice is water…so refreshing!
Favorite kitchen gadget: I use my coffeemaker the most, with my blender for smoothies a close second.
Favorite local restaurant: I go to Paul Martin's American Grill and Skipolini's Pizza most often.
Top 3 Trends For 2014
Using texture on walls in lieu of accent paint. There are many options: tile, rock and wall coverings.   
Hanging multiple light pendants to create a bouncing effect of lighting and glass in the room. I love all of the Edison bulbs for added character.
Porcelain wood tile creates the same look as wood floors but allows for children on roller skates and a dog rushing to the door with its sharp nails. It prevents scratching and requires no maintenance.